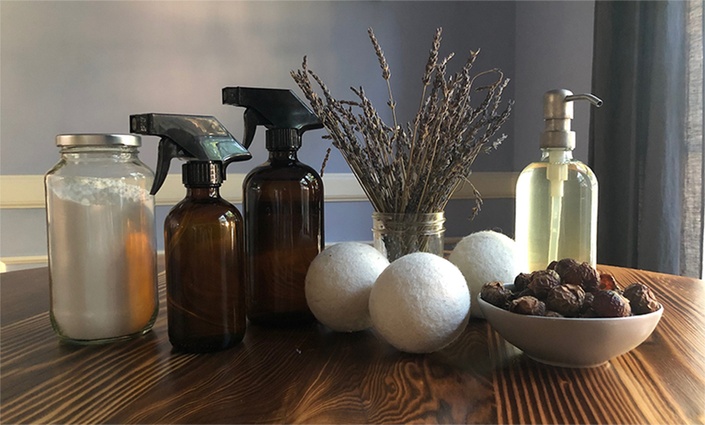 Detox Your Cleaning Routine
As easy as supermarket cleaners... but way healthier
Of course, you'll learn to make your own natural cleaning products. But you'll walk away with so much more...
You've got a lot going on, so let's make this easy.
Once you start cleaning with natural ingredients, you'll see how incredibly easy it is. But getting started can feel a bit cumbersome. The part that I think most of us find overwhelming, is the idea of making our own natural cleaners.
There are so many recipes online that are inspiring... but take time to make or use ingredients that don't feel familiar. That's not the case here.
For this course, I specifically focused on natural cleaning recipes that:
Take no more than a couple of minutes to make. In fact, most have just 1 or 2 ingredients.
Are highly effective at killing germs, scrubbing away grime, getting your laundry clean, or otherwise taking care of whatever it was meant to.
Are super inexpensive. There are a handful of key ingredients you'll see throughout the course. They're all inexpensive, come in bulk-sized containers that last, and have multiple uses.
Unlike toxic cleaners, they won't burn your eyes, damage your lungs, or irritate your skin.
Plus, this isn't just about making your own DIY cleaners. You'll also learn how to find truly natural & toxin-free cleaners at the store, so you can make healthier buying decisions for your family (even at Whole Foods).
At your pace
Some courses set a weekly cadence, but I've designed this one to move at your pace. We'll take it one step (and one room) at a time, so you can feel confident with each shift you make... on a timeline that works for your busy schedule.
To get started, we'll cover some helpful (and likely surprising) information that'll set the stage for the rest of the course. Then we'll dip our toes into natural cleaning and disinfecting with just the individual ingredients (no recipes needed!), so you can become comfortable with how they each work.
As we progress, we'll make a few (still fast & simple) recipes to replace the everyday cleaners, glass cleaners, mildew sprays, laundry detergents, and other chemical-filled cleaners that no longer serve you.
In this course, you will:
Compare safety ratings for popular cleaners (including many 'green' cleaners) to truly toxin-free alternatives.
Use an easy online tool to assess the cleaners and laundry products you own.
Use simple hacks that eliminate the need for toxic disinfectants and home deodorizers.
Learn to clean your home & laundry effectively with natural products.
Effortlessly reduce plastic by adding zero-waste alternatives to your cleaning routine
And you'll walk away with:
An arsenal of easy cleaning recipes you can make yourself with natural, toxin-free ingredients.
The ability to easily distinguish the truly green cleaners from the marketing hype.
The confidence to ditch your chemical cleaners for good.
Such an easy & impactful way to ditch toxins!
You may already know that most commercial cleaners emit toxic fumes into your air. And if you've ever felt your eyes burning after cleaning the bathroom or left the room to catch a fresh breathe, you know exactly what I'm talking about.
But did you also know that most supermarket cleaners leave behind a chemical residue on your counters, floors, furniture, and even in your laundry? Look, I don't want germs or dirt in my home, but I don't want toxins either.
If there's something left behind - whether it's germs or chemicals - then it's not clean. Period.
Safety Rating: F
If you're like me, you may have started your journey toward healthier cleaners by spending a bit more to buy them at Whole Foods. I mean, it's Whole Foods. And these are "green" cleaners, so they must be healthier, right?
Sure, sometimes! But often not.
Are green cleaners safer?
Unfortunately, many popular "green" cleaners are not much safer than what we were buying from the regular supermarket. And even if you're an avid label reader, it's not always easy to decipher the ingredients on the label... if they're even listed.
So, how do you know whether you want to buy that cleaner or leave it on the shelf?
Safety Rating: D
In this course, you'll learn about an easy online tool you can use to look up various cleaning products and their ingredients to see their safety ratings.
You'll also use it to find "truly" healthier alternatives, as well as assess what you've already got under your sink, so you can decide what you want to keep and what you want to ditch.
Course Curriculum
Getting Started
Available in days
days after you enroll
LESSON ONE: Commercial Cleaners
Available in days
days after you enroll
Your Instructor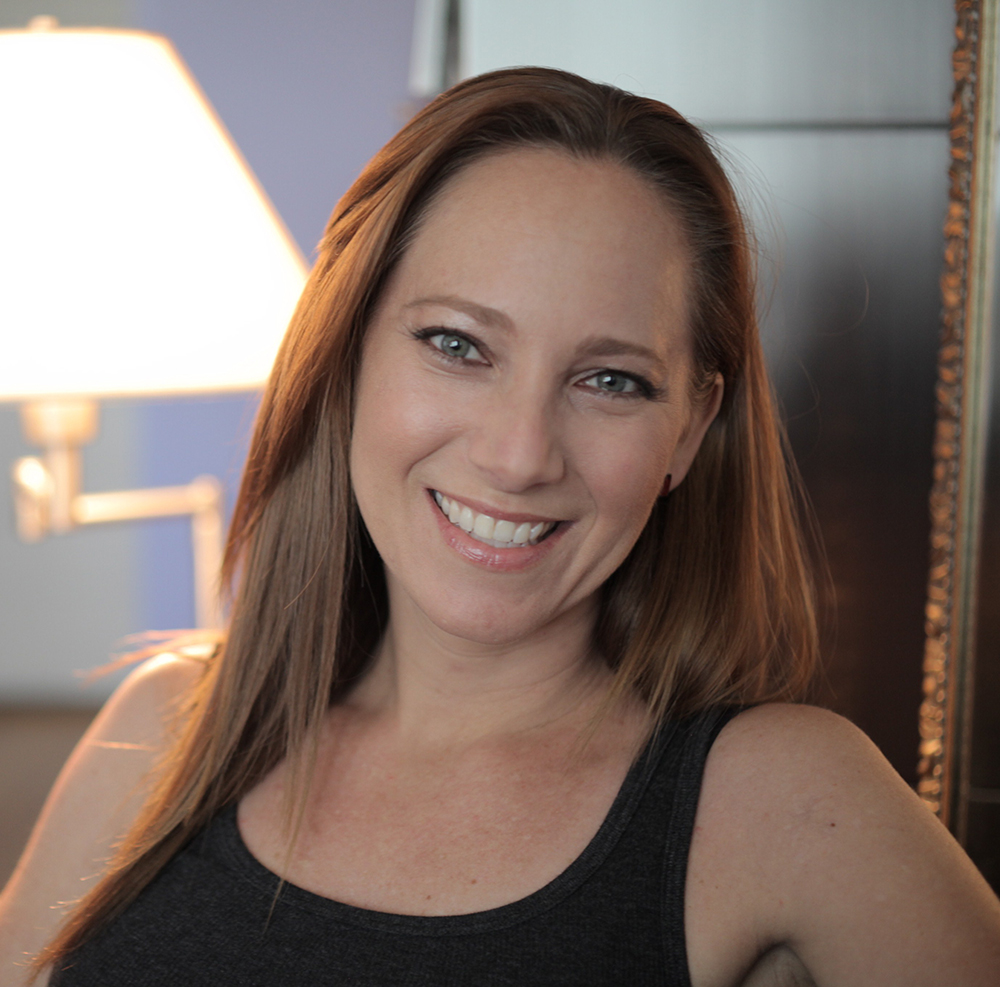 An insatiable research nerd and label reader, I am obsessed with removing toxins from my life wherever I can!
My journey started years ago when I realized my breakfast cereal had more synthetic chemicals than food ingredients. Disgusted by what I'd been putting into my body, the ensuing transition toward a healthier diet ended up cracking my world wide open and I've been on a never-ending search for natural alternatives across every aspect of my life ever since.

My passion for learning is matched only by my passion for sharing what I learn -- from both my research and personal experience -- with others who have embarked on a similar journey. I started Greenopedia.com about a decade ago to do just that.
When I remember to step away from my laptop, you'll usually find me hiking, brunching, or yoga-ing... pretty much in that order.
Who is this class for?
Ultimately, this class is for anyone seeking to reduce the everyday toxins that invade our lives. But there are a few folks who may have a special interest in taking this class.
Parents of small children (and pets): Babies, toddlers, and pets have small bodies, so the chemicals in household cleaners and room deodorizers are more concentrated in their little lungs. The easy hacks and quick recipes in this course are perfect for busy parents in need of natural solutions.
Chemically sensitive:

**

If the slightest whiff of bleach, air freshener or other everyday chemicals makes you feel a bit woozy or if your laundry detergent is giving you a rash, you may find this course helpful.
Compromised immune system:

**

Our bodies have to process & eliminate the toxins we inhale or absorb daily. Removing unnecessary chemicals from our environment can help to lighten the load.
Zero waste enthusiasts: The class naturally calls for reusable spray bottles and bulk-sized cleaning ingredients

. which will reduce your plastic use and minimize the number of cleaners you need under the sink.
**I am not a scientist, doctor, or healthcare provider in any capacity. And this course is in no way intended to provide medical advice, to replace the guidance of your healthcare professional, or to be used to diagnose, treat, cure, or prevent any disease or condition.
Frequently Asked Questions
When does the course start and finish?
This is a completely self-paced online course - you decide when you start and when you finish.
How long do I have access to the course?
After enrolling, you have unlimited access to this course for as long as you like - across any and all devices you own.
What if I am unhappy with the course?
If you are unsatisfied with your purchase, contact us in the first 30 days and we will give you a full refund.
Will I have to buy anything to get started?
Maybe! You'll definitely want the three key ingredients - baking soda, white vinegar & liquid castile soap - because nearly every recipe contains one or two of those ingredients. Everything else is optional. You can check the SHOPPING LIST in the "Getting Started" section of the curriculum to see what you may (or may not) want to buy.